ATTENTION
The bike comes with disabled throttle, top speed 25km/h, and motor locked and labelled as 250W to meet UK regulations, which is legal on road in UK.
(If you need to unlock the throttle, the top speed, and the motor power, please contact us by email alicehuang816@gmail.com with your order number and we will send the simple instructions to unlock or lock it back)
Please be aware that the free gifts with the bike such as the phone holder and air pump are not of good quality, we would suggest not to use them to avoid any potential damage to your own stuff.
AUTHORIZATION
We are a UK local company and the authorised representative of ADO in UK.
We have the repair center in UK and we take responsibility for all the products we sell.
We will try our effort to help whenever you have problems even after the warranty.
QUICK DELIVERY & PICKUP

1-3 working days delivery for UK main areas
Every order we received before 2pm would be collected on the next working day and delivered by the next working day normally. For example, if the order placed on Friday and the delivery man dont work at weekends/holidays, then the order would be collected by them on Monday after that weekend (or after holidays). The parcel should be with you Tuesday or Wednesday.
3-7 working days delivery for UK remote areas & EU
Please check the details of remote areas: Scotland(Aberdeen, Dundee, Falkirk, Kirkaldy, Paisley, Perth, Galashiels); Northern Ireland; Scotland(Outer Hebrides, Inverness, Kirkwall, Shetland Islands), Channel Islands, Isle of Man
Pick up in London
Please contact us after you place the order and we will arrange the pickup for your convenience.
INSTANT RESPONSE
Livechat 10am-7pm and 24-hour email response

Feel free to contact us and we will get back to you as soon as possible
EXCELLENT AFTER-SALE POLICY
14 days free return
You can return the products for any reason within 14 days beginning with the day you receive the item, for return details please see https://www.markshop.co.uk/pages/return-warranty
Warranty&return
Whenever there is a problem within warranty, get replacements from our UK service centre, or return your bike to our service centre to get repaired. Please see warranty details: https://www.markshop.co.uk/pages/return-warranty
A20 VS A20+
THE DIFFERENT SPECIFICATIONS OF EU VERSION AND  INTERNATIONAL VERSION OF A20+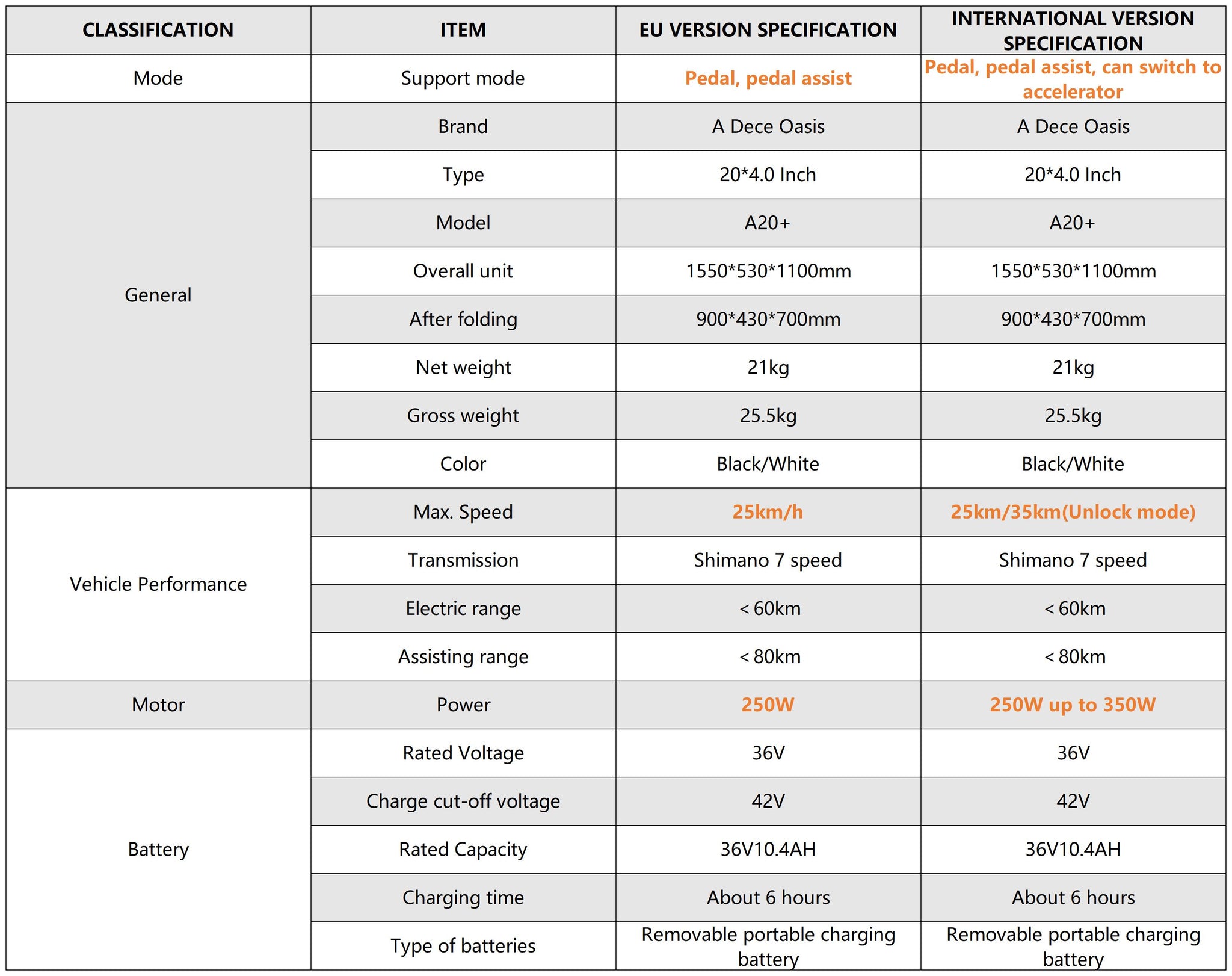 HIGHLIGHTS OF A20+

Shimano 7 Speed Transmission System

350W Power Rate Gear Motor with 380 r/Min Speed

Front Fork and Addle Tube Double Shock-absorption 

886 Type HD LCD Display, Clearly Under the Sunlight

Humanization Design, Such as USB Charger/Carrying handle etc
SPECIFICATION OF A20+
ADO A20+ FOLDABLE EBIKE OFFICIAL VIDEO 
ADO A20+ EBIKE FULL INSTALLATION VIDEO